Did you know that a person needs to spend 5 to 10 minutes in the shower per day? Most people desire to bring their radios to the bathroom to maximize that little time. However, the normal radios are not built for the bathroom; hence, they spoil because of water splashing. Others are big; hence they lack a suitable place in the bathroom. Luckily a shower radio is built exactly for you to carry it in your shower. They are often waterproof and come with desirable features to make your work easier as you enjoy your cold or hot shower.
Showering offers immense health benefits to the body. That's why it's important to have something that makes your sessions enjoyable. Besides, what else can be very therapeutic after a long day of the scorching sun, sweat, and exhaustion than music in the shower. In this article, I will take you through everything you need to know about a shower radio.
What is a shower radio?
A shower radio refers to a compact-sized, battery-powered radio optimized with features that make it suitable for a wet environment such as the bathroom. It's typically a built-in speaker with radio functionality. Generally, they do not have external parts such as antennas or ports that can electrocute or short the user. Shower radios feature different designs: some have a strap to hang in the bathroom rod, while others come with a bracket to mount on the walls. In this digital era, it's common to find the latest technologies such as Bluetooth shower radio.
Benefits of a shower radio
Entertainment: There is no doubt that they love listening to music, podcasts, or favorite radio shows as they take a shower. In that case, a shower radio is a gem.
Compact Size: Most shower rooms don't have space for the big radios. The shower radios are compact in size, making them the perfect candidate.
Waterproof: Water is an enemy to electronics as it makes them short circuit and ends up spoiling. Shower radios are usually waterproof; hence they can withstand splashes of water up to a certain level.
News updates: Nowadays, people barely get enough time to read newspapers or watch the news on television. Why not multitask by listening to news roundups as you take a shower. Apart from the news, you can tune in to the weather stations as you take a shower. (Only on the American market)
Time management: Showering is one of those few activities that you spend time with yourself during the day. It's very easy to lose track of time as you might get carried away with the therapeutic shower. Nowadays, most shower radios feature a clock to help you get out on time for your next activity.
Health and Wellness: Singing in the shower is a lot more than entertainment. According to scientists, it helps improve your blood flow and also makes you feel calm and relaxed. A shower radio increases the chances of you singing in the shower as you wash away all the worries. Besides, a shower radio helps boost your morale when showering, making you extend a little longer. Showers are known to help:
increase blood flow
reduce swelling
Lessen fatigue
Ease muscle aches and pains
improve concentration
Make it easier to breathe
Improve immune function
Portable: A shower radio is usually powered by a battery making it portable. That means you do not need to plug it in while you are in the shower. Some models support Bluetooth and WiFi to allow you to play your favorite media from different sources.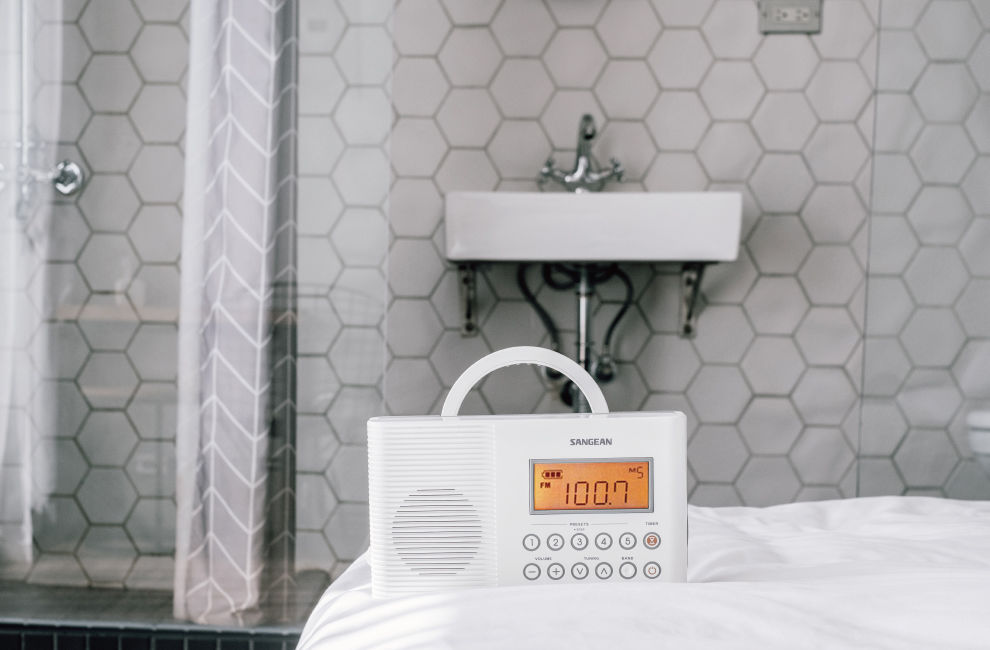 Best Shower Radio to Buy
SANGEAN is a leading shower radio manufacturer in the world. It provides high-quality products that follow the policies and regulations in all regions. For example, it provides weather shower radios in the USA and DAB radios in Europe. We have more than 50 years of experience in making radios that people love. Here is the top-selling waterproof shower radio from SANGEAN.
SANGEAN H201
If you are looking for a simple yet powerful shower radio, the H201 is your best choice. It's a digital waterproof radio that can store up to 10 AM/FM stations. Additionally, It's easy to carry around and fix in the bathroom, thanks to its attached strap, bracket, and hanger.
Don't worry if you are lazy when tuning, as the SANGEAN H201 radio comes with an auto seek feature. On top of that, you can set a timer so that you don't overstay in the shower for a long time. Dermatologists recommend short shower sessions to avoid damaging the skin dermis.
The best feature on the H201 is the large LCD display that is easy to read. It displays all the important information, such as the current station and battery status, and helps you navigate to different controls. In case of a blackout, you can take advantage of the emergency.
The H201 comes in two versions designed for the EU and American markets. For instance, the weather H201 AM/FM shower radio is best for the American market, while the H201 is best for the European market. The main difference is that the weather shower radio features all the NOAA weather alert stations. Otherwise, both radios feature a sleek white design with gray borders and a beautifully SANGEAN emblem on the front face. The wide LCD gives it a touch of style, not to mention it also features a backlit system to enable you to see the contents even in the darkness.
Final Thoughts
Never have to worry about water splashing on your radio by getting a waterproof shower radio. These compact devices will make your shower more therapeutic by bringing your favorite music, radio shows, or podcasts a step closer. Stay up to date as you prepare to go out and face the world. The weather alerts will help you prepare well for the day in terms of clothing and even your mindset. If you are looking for a shower radio, consider the SANGEAN brand and enjoy several choices to choose from. Each radio comes with its unique design, features, and specifications. Contact SANGEAN for more infomation.