Advance in technology has given people multiple ways to access a vast amount of information. Radio plays an important role in our lives. It broadcasts real-time news to listeners across borders. Moreover, it has proven to be reliable in terms of emergencies. The device does not rely on electricity; hence valuable when access to the mobile network is down.
These devices continue to adopt the latest technology. That said, the market has a wide range of radios. It may be confusing if you are buying for the first time. However, the rule is to choose a piece with great features and functions. In this article, we shall discuss things that you need to consider when buying a receiver.
Waterproof
Safety is paramount, especially in wet areas. Unfortunately, there are times we drop the radio on water. If you are working in aquatic places, it's easy to encounter such accidents. In addition to that, adverse weather conditions such as rain or snow can be a problem for people working outdoors.
Another thing is bringing your music system to the bathroom. Who doesn't like singing in the shower? It's pretty obvious your singing voice will be louder and even get better. It also has health benefits, including relieving stress, boosting mental health, and improving speaking abilities and brain functionality.
You will never go wrong when you invest in a waterproof receiver. Not all radios are 100% water-resistant. Some can withstand small amounts of moisture or spray. However, you need to counter-check and ensure it is IPX7. An IPX7 devices can withstand being submerged 1 meter into water for approximately 30 minutes. SANGEAN H201 is a great option if you want a piece that withstands moisture. This radio has waterproof rating of IPX7 It also has a built-in swivel handle that can easily hang anywhere. You can find SANGEAN H201 on the American market and EU market.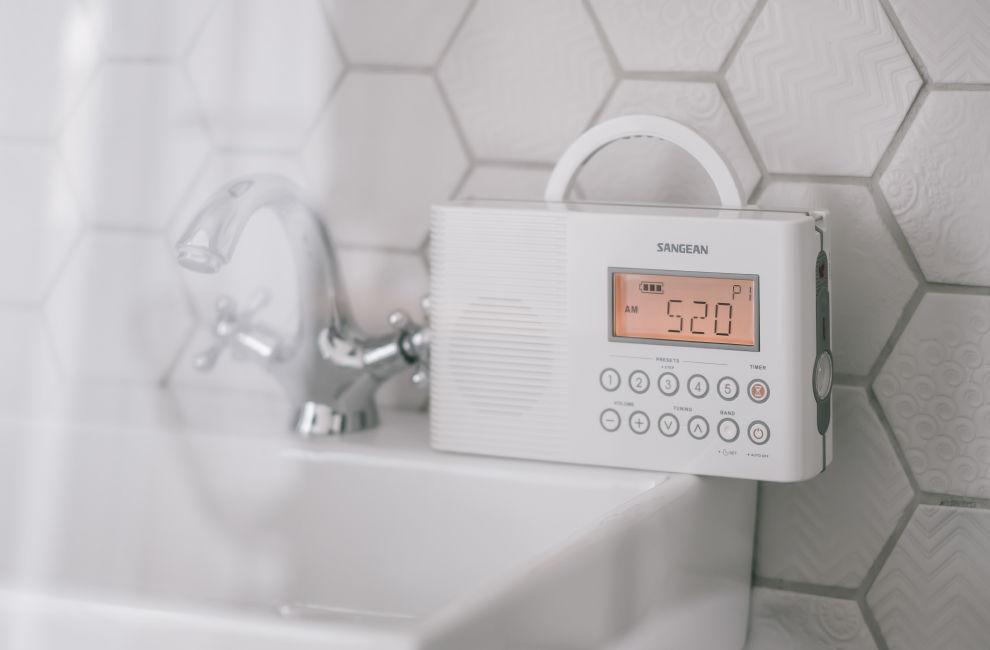 Weather / Emergency alert
We often feel safe at home because there are door locks, large windows, smoke detectors, security systems, carbon monoxide detectors, surveillance cameras, etc. However, what safety measures do you take against mother nature? Well, it's common to hear about natural disasters in the USA, Indonesia, Europe, and many other countries.
A mobile phone or television is not completely dependable, and you will need electricity and an internet connection to stay updated. This is where a weather radio comes to the rescue. It provides critical alerts on severe weather, disasters like earthquakes, nuclear emergencies, chemical spills, terrorist attacks, AMBER alerts, train derailments, and many more. The most amazing part is that it provides information 24/7. Further, it automatically receives alerts. The feature sounds like an alarm and turns on the radio.
The weather radio provides multiple power options, that is, hand crank, solar panel, AA batteries, and rechargeable lithium battery. Don't wait till disaster strikes; you should get an NOAA weather receiver, especially if you live in areas vulnerable to calamities. One of the popular devices to consider is SANGEAN MMR-88. It is designed with rubber bumpers to protect it from damaging incase of a drop. This public-alert certified radio receives all 7 NOAA stations, has different modes of lighting, and can be charged in many ways. MMR-88 is available on American, EU and Taiwanese markets.
Internet
Internet radio has a lot to offer. It is a great solution for common issues encountered with traditional broadcast. Whether you want to listen elsewhere or take control of tunes that play, there are many options to choose from. The receiver provides various songs while you put minimal effort into your music selection.
It has internet radio stations that allow you to get unlimited genres, unlike the traditional one filled with the same music on rotation. You can quickly search for the genre and easily find a station that meets your needs. Furthermore, it shows song information, social media links, station descriptions, and lyrics. It also has smart alarm features that will improve your daily lifestyle.
SANGEAN WFR-28 internet radio has over is equipped with iconic features to suit your needs. It has over 15,000 internet stations and can go with most OS, including Android and iOS devices. The free UNDOK application helps to control from a distance. SANGEAN WFR-28, WFR-28C, and WFR-28BT are available on American and EU markets, refer to WFR-28C on Taiwanese market.
Bluetooth
The main advantage of a Bluetooth receiver is the ability to play audio through available speakers without plugging in a cable. This hack makes your life easier and fun. The best part is that nobody will interrupt or lack Wi-Fi. If you are looking for Bluetooth radio, I would recommend CP-100. This receiver has a beautiful design with an acoustically tuned cabinet. You can use the AUX-in for other audio sources. Get CP-100 on the American, EU and Taiwanese markets.
Tabletop
Table-top radios are the perfect way to listen when you are enjoying a backyard barbecue, on a picnic, in the office, kitchen, or anywhere around the house. SANGEAN WR-11 stands out because of its wooden cabinet design. Besides its looks, the material enhances the sound quality. It also has external connections, for instance, a headphone jack, Rec-Out, and AUX-in ports. You can find WR-11 on American and EU markets, refer to WR-16 on Taiwanese market.
Another is the SANGEAN HDR-15, which features the HD radio technology. With three alarms, it makes a great bedside companion. You can charge your phone using the built-in USB 5V/1A. HDR-15 is only available on the American market.
Conclusion
Despite the availability of high-tech gadgets like mobile phones and smart television, this old technology is still popular. The best is that it embraces consumer trends and technological changes. For this reason, you can find a receiver that meets your needs.
Besides the aspects mentioned above, it is important to buy from a reputable vendor. This will help you to have confidence in the device. SANGEAN is a professional radio manufacturer with 50 years of experience. The company manufactures some of the best consumer electronics in the market. We offer all types of receivers with excellent features such as waterproof, Bluetooth, emergency alert, etc. For any queries, please reach out to SANGEAN.